DMG Monitoring
The OPMET Monitoring is part of the DMG-Monitoring Procedure. Detailed information on the whole subject can be found in the EUR Doc 018, App. C.
General Information
The OPMET-monitoring is performed each year from the 1st until the 14th February. The monitoring is divided into a Routine OPMET data monitoring (first three days) and a Non-Routine OPMET data monitoring for the whole 14 days period. The following OPMET data types are monitored:
Routine data:

SA - METAR
SP - SPECI
FA - GAMET
FC - Short TAF
FT - Long TAF

Non-Routine data:

FK - Tropical Cyclone Advisory
FV - Volcanic Ash Advisory
FN - Space Weather Advisories
WA - AIRMET
WC - Tropical Cyclone SIGMET
WS - SIGMET
WV - Volcanic Ash SIGMET
UA - Special AIREP
The DMG-focal point collects the results of the participating centres. All the gathered results are analysed and proposals for actions generated with the goal to improve the OPMET data exchange within the EUR-region. Besides the following list of centres, which are required to participate to this monitoring exercise, any NOC can, on a voluntary basis, participate and provide monitoring results. In case you are interested, please contact your responsible ROC for further information.
Regional OPMET Centres (ROCs)
Regional OPMET Databanks (RODBs)
SADIS

UK NATS provides results as the SADIS provider
NOC Brussels and NOC Bucharest provide results as SADIS users
The results are normally presented during the DMG-meeting in March and, were necessary, discussed to enable the definition of further actions. In cases where structural problems can be identified, a ticket will be opened via the DMG Problem Handling Procedure tool.
Graphical Presentation of the Results
UK-NATS developed a visual tool (using Microsoft Power BI) for the graphical presentation of the DMG OPMET Monitoring results. Following is a screenshot of the displayed page after clicking on the above link.
Remark: The tool is in a development status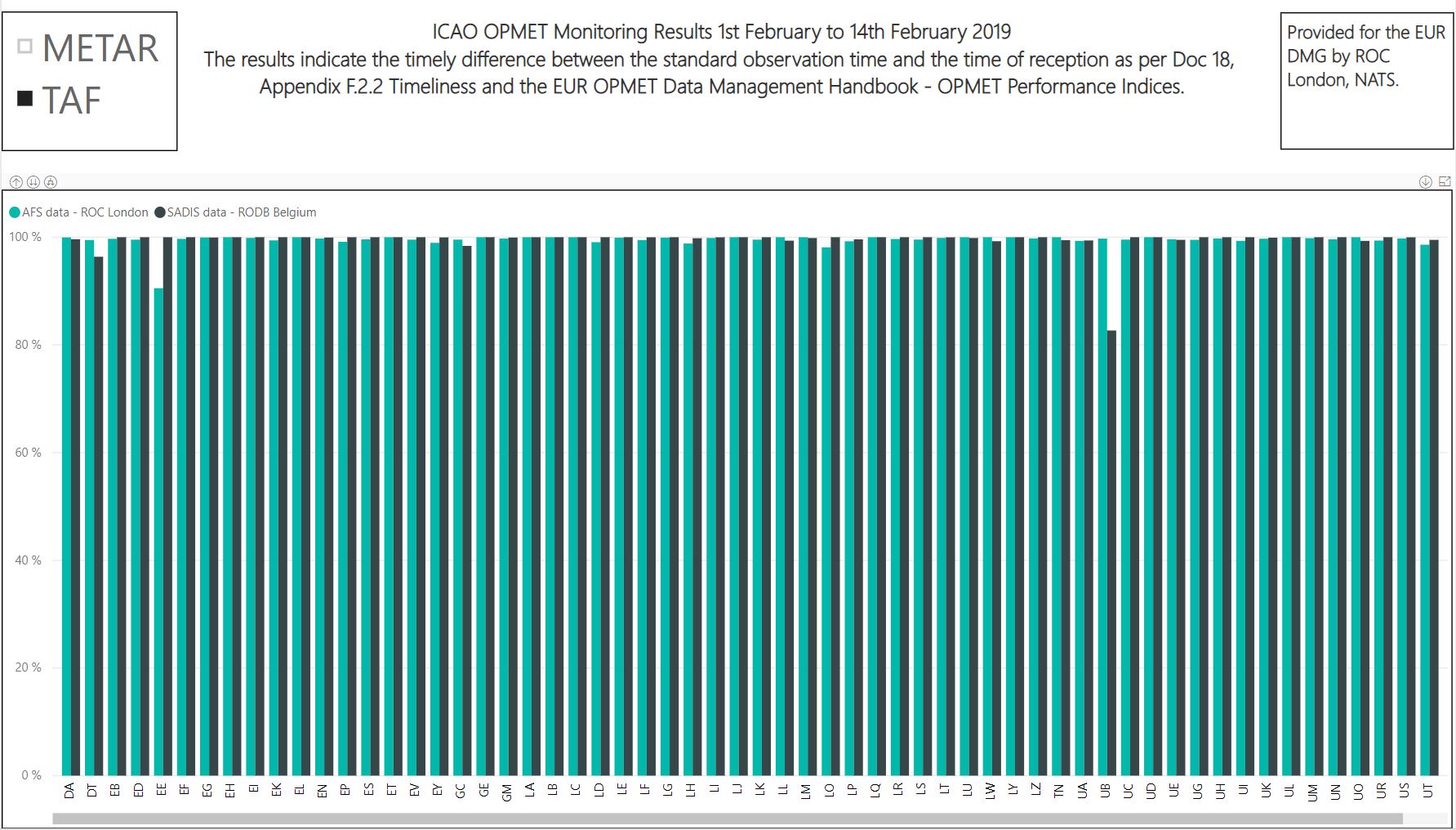 Basic Information on the Usage of the Tool
Following, some principles on the usage of the tool are described. In case of questions on the usage please feel free to contact your responsible ROC-representative or ICAO EUR/NAT Headquarters in Paris..
Selecting the Data Type to be Displayed
Users can choose between the results for METAR or TAF by clicking on the respective keyword in the top left box of the page.
Switching between Results per Region and State
To switch between the results per region, state and location use the right mouse button. This will open a window with several options. For navigation between the different layers the options Drilldown and Drillup are used. Right-click on the column you want to drill up/down to get the menu presented.
Use Drillup to navigate: location→state→region.
Use Drilldown to navigate: region→state→location.
Show Data
Using the right mouse button will also bring up the item Show Data in the presented window. By selecting this, the user will be presented both a bar chart and numerical format.